Best Treatments for Skin Pigmentation in Pune
Skin health, including issues such as skin pigmentation on face , is a top priority for everyone as it factors into our confidence and the way we present ourselves. Whether it's dealing with skin pigmentation on the face or other concerns, finding effective skin pigmentation treatment options is crucial for maintaining an even and glowing complexion.
Skin pigmentation on face is one of the most common skin problems faced especially by those of us in sunny and tropical areas. Issues like uneven skin tone and hyperpigmentation can be resolved with dedicated treatment regimens. Approaching a best dermatologist in Pune for the right treatment protocol can help avoid the frustrations of a trial and error approach experimenting with home remedies and OTC products that can prove counterproductive. Let's explore some of the treatment options available for those suffering from skin pigmentation issues.
Worried about your skin condition? Get in touch with the best of our
skin specialists in Pune
. For a
skin pigmentation treatment
, book appointment now to consult with our best dermatologists doctor near you
+919584584111
Table of Contents
Prescription-based Topical Treatments
Who is the right candidate for this treatment?
What Works Best for Your Skin Tone?
Skin Pigmentation Treatment Cost in Pune
Skin Pigmentation Types
When melanin, the pigment that provides skin its colour, is generated in excess, the skin gets a darker tone. This condition is called hyperpigmentation. When melanin levels are lower, the skin gets a lighter skin tone and the condition is called hypopigmentation. So, the two main skin pigmentation treatment types include hyperpigmentation and hypopigmentation.
The types of hyperpigmentation are:
Age Spots
They are brown or black spots that occur on the skin, mostly on the hands and face in older adults. Sun exposure is the main cause of age spots such as freckles, lentigo, and seborrheic keratosis.
Melasma
It is also called a mask of pregnancy, as it mostly occurs in pregnant women or those with a family history or melasma. This type of skin pigmentation is characterised by large dark patches on the skin, mostly on the forehead, and face. Those with a family history of melasma are more likely to get this condition.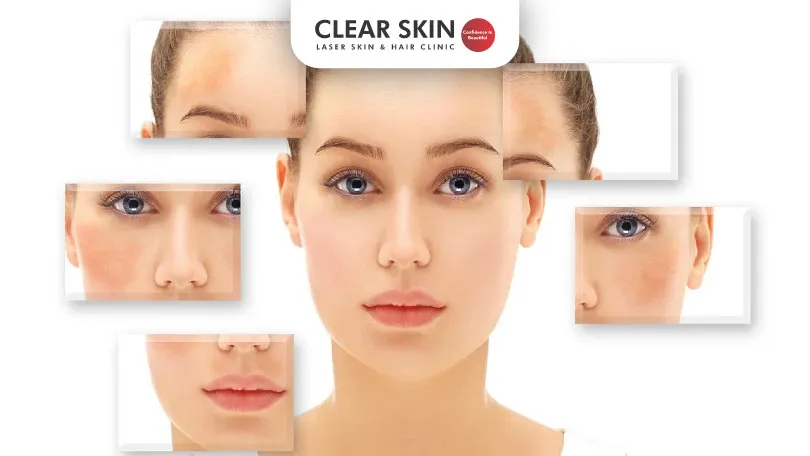 Post-inflammatory Hyperpigmentation
This skin pigmentation treatment type occurs after an inflammatory condition like eczema infection or acne and can be seen in the form of dark spots or patches anywhere on the body.
The types of hypopigmentation are:
Albinism
It is a rare inherited disorder that occurs due to a genetic defect leading to a lesser generation of melanin by the skin. People with albinism have white skin and hair.
Vitiligo
It is believed to occur due to an autoimmune disease that affects the skin cells that generate melanin. This skin condition leads to white patches on the skin.
Pityriasis alba
The exact cause of this condition is not known, but it is believed to be linked with several causes including eczema. It mostly occurs in children and is characterised by the appearance of white, raised patches on the face.
Causes of Skin Pigmentation
Sun exposure is one of the major causes of hyperpigmentation. The skin generates more melanin to protect itself from prolonged exposure to the sun, leading to dark spots or patches on the skin.

Fluctuations in hormonal levels can cause dark patches on the skin.

Certain medications can lead to hyperpigmentation.

Topical creams with harsh chemicals are among the important causes of pigmentation on the face or around the mouth.

Certain inflammatory conditions like acne or eczema, are another reason for pigmentation on the face.

Injuries can lead to the appearance of dark patches on the skin.

Some underlying health conditions like Addison's disease and hemochromatosis can cause hyperpigmentation.

Tinea versicolor, a fungal infection is another cause of skin pigmentation on face; it leads to the appearance of dark or light patches on the skin.

Psoriasis, an autoimmune disease, causes scaly, dark patches on the skin. 
Prescription-based Topical Treatments
These agents help to treat pigmentation by inhibiting melanin production and a few agents can also cause exfoliation of the skin to get rid of the superficial pigmented cells. Due to their capacity to balance out skin tone and enhance skin texture, dermatologists recommend applying such substances as one of the best skin pigmentation treatments for the face. Common options include:
Glycolic acid
Azelaic acid
Kojic acid
Salicylic acid
Vitamin C (containing I-ascorbic acid)
Hydroquinone
Arbutin
Niacinamide
Who is the right candidate for this treatment?
Any person with uneven skin tone or pigmentation on the skin can benefit from the long-term use of these agents. However, the selection of agents depends on various factors such as cause and depth of pigmentation, skin type, patient occupation, lifestyle, etc. Though these creams take more time to show results than procedural methods and act only on superficial pigmentation, they are more accessible and affordable to people looking for inexpensive acne hyperpigmentation treatment.
Retinoids
These are prescription medications derived from Vitamin A and are among the oldest forms of skincare creams used. Dermatologists recommend these medicines for Skin pigmentation treatments, especially, for those suffering from wrinkles and major hyperpigmentation problems.
Who is the right candidate for this treatment?
Though these medicines can be used by all, dermatologists prescribe them to patients with mild skin tones. If you have a darker skin tone, you must confirm with your doctor before its long-term use. Retinoids also have an anti aging skin effect in addition to reducing hyperpigmentation, which means that their medicinal effect can help you with both pigmentation problems and unwanted wrinkles.
Chemical Peel
In this method,  medicated solutions are used to treat hyperpigmentation. The goal of this treatment is to produce predictable, controlled removal of uniform thickness of damaged skin allowing facial rejuvenation, proper skin healing, and reduction in pigmentation.
It requires a few sessions to see the benefits of chemical peels. It is one of the safest and most effective methods to treat hyperpigmentation problems. Take care to avoid the sun after undergoing this treatment.
Who is the right candidate for this treatment?
Anyone irrespective of age or gender can undergo this type of treatment. Chemical peel treatment is advised most to treat:
Age spots
Skin pigmentation due to sun exposure
Melasma problems
Blotchy skin
Tanning/ dullness of the face
Laser treatment
Laser treatment for pigmentation problems is becoming easily common as dermatologists recommend using targeted light beams to treat hyperpigmentation. Generally, doctors rely on two types of lasers, i.e., ablative and non-ablative. The most intense is the ablative lasers that help remove the epidermis layer. The non-ablative laser beams target the middle layer of the skin to remove any deep effect of pigmentation, promote collagen growth, and tighten the skin around.
Dermatologists treat pigmentation with different types of lasers depending on the type of pigmentation, the area, and the level of recovery time. Lasers stimulate collagen growth in the underlying layers of skin. As a result of this, the skin tightens and the skin tone also improves. The types of laser therapy treatments include:
Q-switched Nd YAG Laser: Q-switched Nd YAG Laser is a new technology that is highly safe and effective. The skin is exposed to a beam of light that only targets the melanin pigment and causes its breakdown. This does not affect the surrounding cells and can reach the deeper layers of the skin, giving an even skin tone.
Fractional lasers: lasers such as carbon dioxide lasers and erbium glass lasers are fractional lasers that act by creating microthermal zones through which pigment is removed. These lasers are associated with a short time and are preferred in patients who have deeper pigmentation.
Who is the right candidate for this treatment?
Hyperpigmentation laser treatment is sought by most looking for skin resurfacing treatment. Anyone with conditions like uneven or patchy skin tone, dull face, or dark pigmentation can go for hyperpigmentation laser treatment.
Microdermabrasion
This refers to the mechanical exfoliation of the skin's upper layer to treat hyperpigmentation helps in improving skin tone and texture.
In this kind of treatment, a stream of microcrystals or a diamond head exfoliates the affected skin and rejuvenates it. It is a non-invasive technique that is carried out over multiple sessions to achieve the desired results. Microdermabrasion is appealing to many patients. It also has other advantages like:
Brightening up a dull complexion.
Improving uneven skin tone or texture.
Reducing age spots.
Reducing dark spots that can appear when acne starts to clear.
Toning down melasma
Additionally, dermatologists use microdermabrasion to enhance the results of anti-aging products and skin-bleaching products. This treatment aids the easy penetration of these products.
Who is the right candidate for this treatment?
Microdermabrasion treatment best superficial scars and hyperpigmentation on the uppermost layers of skin. This pigmentation treatment option is suitable for all skin types if done correctly and post-procedural precautions are followed.
What Works Best for Your Skin Tone?
If required, Dermatologists take care to perform patch tests of dark and dry skin that must be treated for improved skin quality. For example, lip pigmentation treatment begets a different treatment than the method used to treat a scar on the face or the delicate area under your eyes. Patch tests will reveal if the treatment is effective for your skin type.
Since no skin tone is the same, the treatment options are also different depending on the complexion, seriousness of the pigmentation problem, lifestyle habits, and willingness to abide by the dermatologist's advice.
Skin Pigmentation Treatment Cost in Pune
Pigmentation treatment in Pune is an inexpensive affair and easily accessible. The charges are solely based on the nature and seriousness of the hyperpigmentation problem. If the pigmentation is over a larger patch of skin, the costs incurred will be higher. The costs also depend on the kind of treatment protocol, topical application, retinoids, chemical peels will be more affordable than more complex procedures such as laser therapies.
Reason for Skin Pigmentation
Skin pigmentation on face is mainly caused by the presence of melanin, a pigment produced by specialised cells called melanocytes. The skin pigment melanin determines the hue of our skin, hair, and eyes. Numerous elements, like genetics, sun exposure, hormones, and specific medical disorders, have an impact on the quantity and distribution of melanin in the skin.
Genetics: Our inherited traits play a significant role in the level of melanin production. People from different places can have diverse skin tones because different ethnic backgrounds have differing quantities of melanin.
Sun Exposure: The sun's ultraviolet (UV) radiation encourages melanocytes to create more melanin, giving the appearance of a tanned skin. Uneven melanin distribution brought on by prolonged, uncovered sun exposure can result in freckles, sunspots, and other hyperpigmented conditions.
Hormones: Hyperpigmentation can be caused by hormonal changes, such as those brought on by hormone therapies or pregnancy-related hormonal changes (melasma or "pregnancy mask").
Injury and Inflammation: Skin injuries, acne, or other inflammatory disorders can result in post-inflammatory hyperpigmentation, where the skin overproduces melanin as a defence mechanism against the injury.
Age: Age spots, also known as liver spots, are regions of heightened pigmentation on the skin that develop as we age because our skin's capacity to control melanin production declines.
Medical diseases: Atypical melanin synthesis or distribution is linked to some medical diseases, including vitiligo (loss of skin pigmentation) and melasma (dark areas on the face).
Why Choose Clear Skin?
Too much sun exposure or lack of adequate skincare could turn disastrous with the appearance of dark spots and an unevenly toned complexion. We can help you recover your skin tone through evidence-based treatment methods and are transparent about the expected results to ensure patient satisfaction. We pride ourselves in giving patients great care and guidance during the pre and post-op stages, instead of treating it as a one-time session.
We use the best-in-class skin pigmentation & tan removal technologies and machinery that are approved by the FDA standards. This ensures that the highest safety protocols are followed, and enables us to deliver great results for our patients.
For treating your skin condition, feel free to get in touch with one of our best
dermatologists in Pune
. You can also call on
+919584584111
to book an appointment at one of our skin clinics near you.
Pigmentation Treatment Success Stories
Issues like uneven skin tone and hyperpigmentation can be resolved with dedicated treatment regimens. Approaching a dermatologist for the right treatment protocol can help avoid the frustrations of a trial and error approach experimenting with home remedies and OTC products that can prove counterproductive. Let's explore some of the treatment options available for those suffering from skin pigmentation issues
Jasmine Nayak

"I have been visiting Clear Skin for last four months for extreme pigmentation and acne problem on my face. Doctors and support staffs at Clear Skin clinic are very helpful and caring and I can see a lot of improvement in last 4 months."
Bhanudas Hambir

"Experienced doctors, treatment done for pigmentation was really good and results can be seen within a week. Would surely recommend for skin problems."
Sunil Nalge

"When I first came here, I had lot of Pigmentation, and black spots on my face and neck.
The Doctors here helped me immediately and I undertook their pigmentation treatment. This treatment showed drastic results in very few sittings. "
Amol Nikam

"The hospital is well equiped with all kinds of hair and skin equipments. All the doctors are good and give patients the assurance of better skin. They have helped me to resolve my pigmentation issue."
Milan Jagtap

"I had got severe pigmentation and lots of pimple marks. With laser treatment it has become an even tone skin now. Pimples frequency has been reduced upto 90-95%. Overall very good experience and results."
Experienced team of doctors and staff
Years of experience
Treated 1L+ patients in Maharashtra
Patients satisfaction is top priority
Use advanced technologies
Expertise in treatments of various skin conditions etc
Clear Skin Ultimate Guides