Clear Skin Clinic - Skin Specialists at Prabhat Road
Are you a resident of Prabhat Road or the vicinity around it and searching, the best dermatologist near me? Then, visit Clear Skin! We are the answer to your search for skin doctors near me. Our experienced and internationally trained dermatologists have treated thousands of patients and offer multiple treatment options for various skin conditions.
Meet Our Top Dermatologists at Clear Skin Clinic Near You
The reputed clinic with various branches in Pune is led by Dr. Dhananjay Chavan, an experienced dermatologist with over 30 years of experience treating skin conditions. Clear Skin's Prabhat Road skin clinic is led by Dr. Rajeshwari Patil.
The skin clinic is nearby various areas like Parvati Hills, Ganeshwadi, Baner, Kothrud, Sadashiv Peth, Chandani Chowk, Model Colony, Erandwane, Bhonde Colony, and Deccan Gymkhana. So, if you are a resident of any of these nearby areas searching for skin clinic near me, Clear Skin is the place to visit!
Book an Appointment With the Best Skin Doctors Near Deccan Gymkhana, Pune
Connect with us on +919584584111 to know more about the skin conditions, skin treatment options and patient feedback.
Here are the clinic's opening timings.
| | |
| --- | --- |
| Day | Timing |
| Monday | 10:30am–7:30pm |
| Tuesday | Closed |
| Wednesday | 10:30am–7:30pm |
| Thursday | 10:30am–7:30pm |
| Friday | 10:30am–7:30pm |
| Saturday | 10:30am–7:30pm |
| Sunday | 10:30am–7:30pm |
Successful Skin Treatment - Results (Skin Condition Before and After)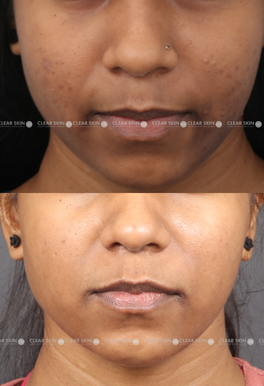 I recently visited the clinic for acne treatment and I am very satisfied with the results . The team of doctors working in the clinic is extremely efficient. They explained the whole treatment protocol and the procedures in depth and were quick to solve all the queries . The machines and the procedures done were very good and they have all the advanced technology. It was a very good experience overall. Would 100% suggest for all dermatological and cosmetology consultation and procedures.
Riddhi Kenjale
I am taking treatment in Clear skin for face acne from last 1 year. I had really good experience till now. Acne tendency has reduced and my face is looking much clear now. Doctors and staff are really good. I specially want to thank Dr. Vikram for best treatment experience here. I will definitely recommend clear skin for skin and hair treatment.
Mayur Ghadage
Hey all please consider this review as my personal feelings. I got to know about this clinic through google, after reading the reviews i felt its good but once i suggested this to my friend and started getting treatment for my friend we both felt that this is really best in pune. Staff behaviour is too polite and time punctual. Not even a single meet of our continuous opponents disappointed us. We get benifits more than for what we pay. Simply this is best for hair and skin treatment.thank u clear skin and hair md
Trupti
I have been taking treatment here for more than 2 months now and I can already see massive changes on my skin. This place has all the advance technologies and experienced staff that's why one can visit clear skin without a doubt. Also I would like to specially thanks Dr Rosemary for her continues guidance and treatment.
Gouri Pathak
My experience with clear skin has been great and excellent. Achive very good result in 3 month .Dr chavan sir and Dr. Vikram both doctors are great at what they do,they understoond my skin concern very well and suggested me the the right treatment according to my needs.great and experience staff.supportive helpful .highly recommend to who needs skin treatment. thank u clear skin hair MD
Pranav Nikam
I am here for skin treatment & i would like to share my experience that Clear skin & hair MD is one of the best Skin clinic. I observed tremendous changes in my skin. I suffered too much pimples & acnes, i tried 2 to 3 skin clinic but after Clear skin & hair MD I'm much satisfied about treatment. Special thanks to Dr. Aruna Pawar ma'am & Dr. Vikram Patil sir. Thank You
Anand Pandharpatte
I had great experience with Clear skin so far. Doctors they have individually care about the patient specifically Dhananjay sir, Dhanraj sir, Rajeshwari mam, Aruna mam and Rose mam. They explain condition very well and treatment through which patient needs to go. Very genuine people and have answer for every question of yours and explain everything very patiently.
Mishti S
Excellent treatment, excellent coordination of staff. Doctors are very professional and helpful, provides appropriate treatment. I did my treatment under the guidance of Dr. Rajeshwari Patil ma'am and I'm satisfied with the results. Great ambiance. must visit.
Kirti Patil
Thank you so much to Clear Skin and Hair MD for supporting too much for Solving our Problem regarding Skin and Hair. All the Staff of Clear skin and Hair MD are very Helpful and I like service they are providing to each and everyone.
Vishal Jadhav
Our Skin Clinic in Prabhat Road
Lets Chat
We would love to hear from you and see how we can help.