Best Dark Circle Treatment in Pune
Dark circles, also known as "under eye dark circles" are telltale signs of aging, exhaustion, and sleep deprivation, and they can significantly impact your appearance. If you suffer from an under eye dark circles problem, then seeking early treatment can help prevent the issue from getting aggravated.
Dark circles are mostly caused due to exhaustion or prolonged exposure to the computer screen. Others may have a genetic predisposition to this condition also called periorbital hyperpigmentation, though fatigue and lack of rest are more plausible explanations for the formation of under eye dark circles.
Worried about your dark circle? Get in touch with the best treatment for dark circle of our
skin care clinic in Pune
. For a skin treatment, book your appointment now to consult with our best dermatologists near you
+919584584111
Table of Contents
Treatment Options for Dark Circles
What Works Best for Your Condition?
How much will Dark Circle Treatment Cost in Pune?
What Causes Dark Eye Circles?
The reason of dark circles are characterized by light- to dark-colored, brownish-black pigmentation surrounding the eyelids. It gives a tired look to the patient. Diagnosis is mainly based on clinical examination. It is important to differentiate the dark eyelid skin with shadowing due to tear trough. Manual stretching of the lower eyelid skin can help to differentiate between true pigmentation and the shadowing effect. 
Under-eye dark circles are caused by darkening of the under-eye skin.

They may also appear due to the shadows cast by puffy eyelids or result from hollows that appear under the eyes as an effect of aging.

The most common causes of dark circles under the eyes is fatigue or tiredness.

Mostly, under-eye circles are not a medical problem and taking adequate rest, keeping the stress levels in check, and taking good care of the skin under the eyes, can help in removing dark eye circles.

Too much or too little sleep can lead to dark eye circles. Sleep deprivation causes the skin to look dull and pale. Inadequate sleep can trigger the build-up of fluid under the eyes, causing them to appear puffy. The shadows of puffy eyelids can lead the under-eye skin to appear dark.

With advancing age, the skin gets thinner and there may be a decrease in the fat and collagen in the under-eye region. The dark blood vessels under the skin are hence more visible, causing the region under your eyes to appear darker.

Those with a family history of dark circles have a higher possibility of getting this condition.

Sun exposure is an important cause of dark eye circles. Overexposure to sunlight leads to pigmentation of the skin underneath the eyes, causing it to appear darker.

If the skin is not well-hydrated, dark circles may appear under the eyes.

Aging is an important cause of dark eye circles. With growing age, the skin gets thinner. There is a decrease in the fat and collagen content in the skin, causing the skin to lose its elasticity. The dark blood vessels under the skin are then visible, leading the skin underneath the eyes to appear dark.

Allergies trigger the release of histamines, which cause the blood vessels to dilate. Due to dilation, they are more visible, resulting in the appearance of dark circles under the eyes.

Anemia is among the other reasons for dark circles around the eyes.
Treatment Options for Dark Circles
Skin Lightening Creams
Most skin specialists recommend skin lightening creams as the first line of defense to treat under-eye hyperpigmentation. These under eye dark circle cream contain azelaic acid, kojic acid, glycolic acid, or hydroquinone. You may avail of some of these creams over the counter at pharmacies though most of them must be prescribed by a doctor before availing them. This is also an effective under-eye treatment for wrinkles.
Who should try this?
Using skin lightening best dark circles removal creams is beneficial for you if you're experiencing excessive melanin production. The right application of these skin creams helps reduce the amount of melanin in the skin, decreasing skin pigmentation over time, ultimately resulting in the lightening of the dark circles.
Laser Therapy
Laser treatment for dark circles makes use of heat energy to break excess melanin pigment. QSW laser targets the dark pigment under the eyes with their laser beams, fractional CO2 laser treatment helps in inducing collagen generation.
Who should try this?
As laser treatments for dark eye circles do not typically have any major adverse effects, unless done by an experienced doctor and proper parameters and most people are suitable candidates for the procedure. However, it's best to determine the type of dark circles you suffer from as each laser is suited to a certain type of dark eye circles.
Chemical Peels
Light chemical peels are often suggested for best treatment for dark circle. A light chemical peel meaning peels with less concentration containing glycolic acid, retinoic acid, or hydroquinone is often deemed as the best treatment for dark circles. Some dermatologists may also suggest their patients undergo a combination peel dark circle removal treatment that includes the combined effect of salicylic acid, lactic acid, and resorcinol.
Who should try this?
Chemical peels are best suited for you in case your dark circles are a result of hyperpigmentation. Since the skin on the eyelid is very thin, you must opt for the basic chemical peel and avoid going for medium depth or deep chemical peels treatment. It's best for treating fine wrinkles, to soften the deep creases, and smooths your skin texture.
Blepharoplasty
Incase where dark circles happen along with puffiness or wrinkles under their eyes, this procedure is used. Dermatologists remove the fat from the lower lid through blepharoplasty, a procedure that reduces the under-eye bags. In blepharoplasty also the excess skin on the upper eyelid is causing hooding and heaviness on eyes and also unnecessary skin folds under the eyes are removed, mitigating the dark circle's appearance.
Who should try this?
You can go for blepharoplasty in cases wherein you have excessive skin and fat deposits around the eyes. If you're noticing any hollowness under your eyes, then also going for the blepharoplasty can work in your favor.
Platelet-rich Plasma (PRP) Therapy
This involves injecting the plasma separated from the patient's blood under the eye area to generate new collagen and promote new cell formation for smooth and healthy skin. As stem cells promote healing and new skin formation, dark circles and puffiness are replaced with thicker, brighter, and tighter skin.
Who should try this?
Platelet-rich plasma therapy uses your own blood to stimulate the skin on your face so that new, healthier skin cells can grow. Dermatologists will recommend you to undergo the PRP treatment for under eye dark circle therapy when you suffer from dark circles (under-eye pigmentation), notice any hollowness under the eyes, or have fine wrinkles on your skin.
Fillers
Dermatologists may inject hyaluronic acid-based dermal fillers like Restylane or Juvederm under the eyes to reduce puffiness below the lower eyelids. This is also a preferred periorbital dark circles treatment as the chemical contained in the fillers enables volume loss under the eye responsible for dark circles and unwanted puffy feeling.
Who should try this?
Dermatologists recommend fillers treatment when they notice a considerable volume loss under your eyes. As a part of this treatment, your under-eye area is lifted with volume and smoothed to minimize the shadowing effect and provide a cushion between blood vessels and skin to reduce the darkness.
What Works Best for Your Condition?
Dark circles are nothing to worry about as they pose no major health concern. Dark circles natural treatment, getting enough and sound sleep or spending less time in front of the computer screens can help resolve the issues on its own. However, if the dark circles are persistent and are affecting your self-confidence, you must seek treatment.
While sometimes home remedies can remove dark circle under eye or help reduce the appearance of dark circles, it helps if you consult an expert or physician to know the cause of dark circles under eye and seek treatment accordingly. Those suffering from dark eye circle problems due to old age can opt for chemical peels therapy or blepharoplasty that reduces the effect of under the eye dark circles.
How much will Dark Circle Treatment Cost in Pune?
The use of novel technologies that assure better results in a minimum number of sessions means lesser dark circle laser treatment cost or for any therapy used for dark circle treatment. With Pune being the new hub of skincare experts, you can now hope for clear, healthy skin treatment for Dark circle surgery cost at affordable rates.
Why Choose Clear Skin?
Clear Skin is India's premier skincare and aesthetics clinic since 2006. We are equipped with more than 100 skincare experts and dermatology surgeons making our name synonymous with safe, modern, and effective skin and cosmetic treatments. Our mission is to help you regain confidence and put forth the best version of yourself.
For treating your under eye dark circle, feel free to get in touch with one of our best dermatologists in Pune. You can also call on +919584584111 to book an appointment slot at one of our skin clinics near you.
Under Eye Dark Circles Treatment Success Stories
Dark circles are a telltale sign of ageing, exhaustion and sleep deprivation and it can affect your appearance significantly. If you suffer from dark circles under your eyes, then seeking early treatment can help prevent the issue from getting aggravated. Discover inspiring success result stories of Under Eye Dark Circles Treatment before and after the improvement by skin care clinic in Pune.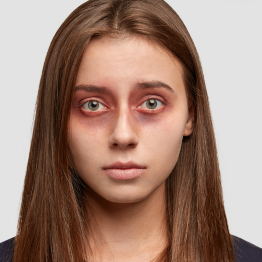 Smita Tupe

"I have been 3 to 4 skin clinic for under eye dark circle... but I didn't get any result, then one of my friend suggested that I visit Clear Skin, Dr Chavan and team have really helped me resolve my condition."
Harshada Dubal

"It help me to get rid of pimples and dark circles and I'm satisfied with treatment. Doctors and staffs are friendly and supportive with excellent service and clinic facilities "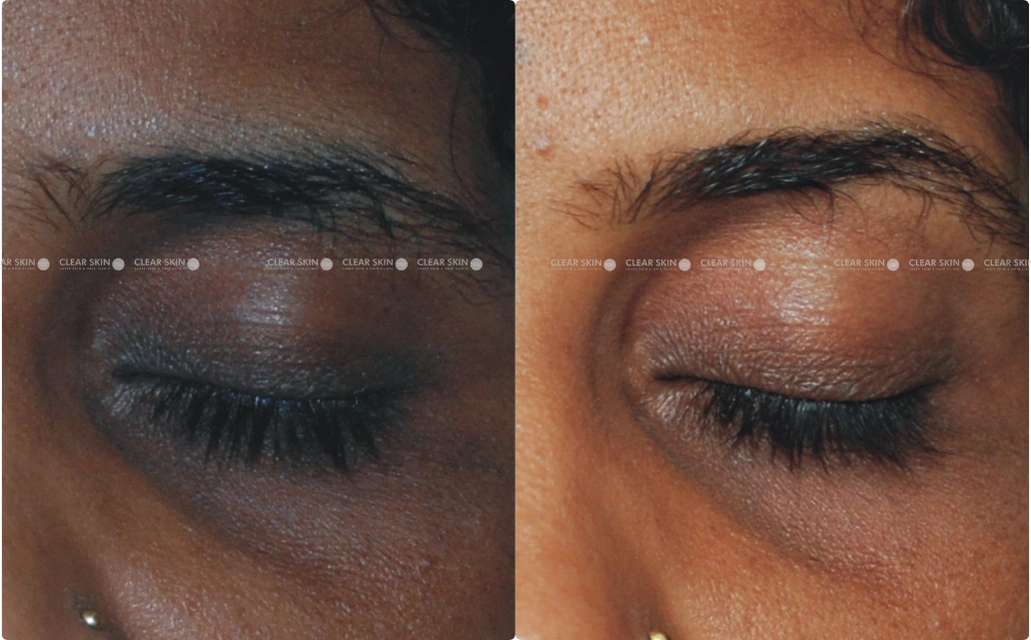 Neha Patel

"I have started my treatment from Dec 2016. I was suffering from dark circles and dark spots which were so frustrating. Dr . Deepali helped me deal with the condition and now I'm finally free from dark circles."
Sayali Salape

"Very good and professional clinic, doctors are helpful and give you confidence. Even all the staff in this clinic is very good and courteous. I can see great improvement after following the treatment regimen. "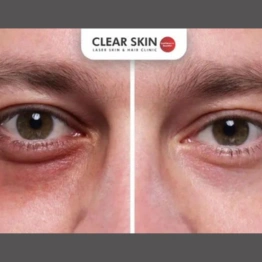 Raji Badre

"Dr Chavan is really one of the best doctors I've come across ..his clinic is really very hygienic and the staff ensures you are comfortable. Within six months he had cleared my skin and reduced dark circles ."
Experienced team of doctors and staff
Years of experience
Treated 1L+ patients in Maharashtra
Patients satisfaction is top priority
Use advanced technologies
Expertise in treatments of various skin conditions etc
Clear Skin Ultimate Guides